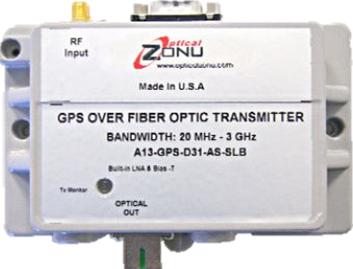 OZ600, RF over Fiber
Point-to-point configurations
Using existing fibers in building
Electrical isolation from lightning strikes
Long distances.
Daisy chain configurations
Extending the range to tens of kilometers
Option to bypass or cover intrinsicallysafe areas
Applications include subway, underground mine and other long tunnels.
Star configurations
Distributing the single point GNSS signal e.g. to timing instrumentation in campus or factory area.
RF over Fiber Components and Systems
Satellite Communication (commercial and military)
GPS signal distribution
DAS (Distributed Antenna System)
Wi-Fi and Cellular transport
Remote Base Station connection