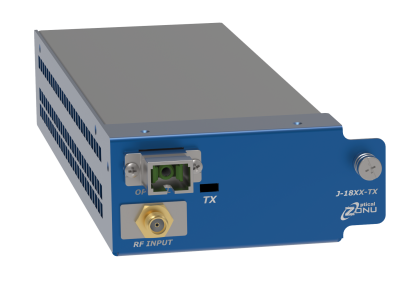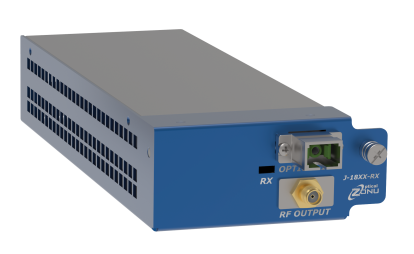 High Frequency Transmitter/Receiver Plug-in Modules
Description of JDM/JXM Series :
The JDM/JXM series are J-Chassis plug-in transmitters and receivers.
The JDM and JXM J-Chassis (and J3U Chassis) plug-in modules are broadband RF/Microwave over Fiber transmitters and receivers. The modules have a wide dynamic range and support RF/Microwave transport in situations where transport distance or flexibility of cabling may prohibit the use of coaxial cable. The plug-in modules provide high Spurious Free Dynamic Range (SFDR) transport for RF/Microwave signals extending in frequency up to 60 GHz.
Features:
• Bandwidths up to 60 GHz
• -20ºC to +65ºC Operating Temperature
Range
• High Spur Free Dynamic Range (SFDR)
• Stable Transmitter Optical Power Output
• Low IMD (actively controlled operating
point for ext mod)
• Stable Fixed RF Gain Over Operating
Temperature Range:
• Front Panel LED Status Indications
• Remote Monitoring via SSH CLI, HTTP
Web UI, and Managed RFoF Graphical
User Interface
• Supports SNMP v2 and v3
• Laser Conforms to Class 1 Emission Level*
per CDRH and IEC 835 (EN 60825
Standards)
Options
• Low Noise Transmitter RF Amplifier
Options (+15 dB, +25 dB, +35 dB)
• Receiver RF Post-Amplifier Options (+15
dB, +25 dB, +35 dB)
• 20 kHz Lower Roll-off Frequency
• DWDM Wavelengths Available
Applications:
• Microwave Antenna Distribution
• Remote Antenna Location
• Radar Signal Transport
• Broadband Delay Lines
• Multi-Band Satcom Transport
• Phased Array Antenna Systems
• Shipboard RF Distribution, CDL
• Frequency Distribution Systems
• Avionics