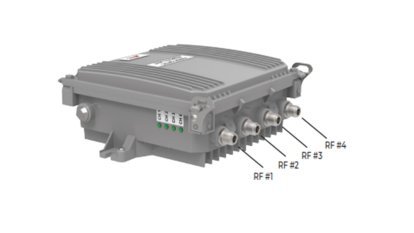 eFiberSat
The eFiberSat L/S-Band Satcom fiber transport subsystem provides a simple, cost-effective, and reliable RF connection between a satellite antenna and a satcom modem in those cases where coaxial cable is impractical or additional security is required.
A single eFiberSat fiber transport link can accommodate any combination of up to four, uplinks and/or downlinks.
eFiberSat utilizes Coarse Wavelength Division Multiplexing (CWDM) to transport all RF signals between the Indoor Unit (IDU) and the Outdoor Unit (ODU) over a single fiber.
Features:
30 MHz to 3 GHz Fiber Optic Transport Between Satcom Modem and Outdoor Unit (4 GHz and 6 GHz Bandwidths Available)
-20°C to +60°C Operating Temperature Range
IP-67 Rated Outdoor Unit
19" 1RU Rack Mounted Indoor Unit
1310 nm, 1550 nm, CWDM Wavelengths
High SFDR
Low Phase Noise Reference Clock Distribution
Automatic Optical Power Control
Local LEDs and Dry Contact Alarms (Indoor Unit)
SSH CLI, HTTP Web UI, Managed RFoF Graphical User Interface (GUI) and SNMP v2 and v3 for Remote Monitoring
Uncooled DFB Lasers
Lasers Conform to Class 1 Emission Level Per CDRH and IEC-825 (EN 60825) Standards
Applications:
RF Over Fiber Transport
Teleport RF Signal Distribution
Antenna Remoting
Maritime RF Signal Transport
Disaster Recovery
Oil & Gas Platforms
TVRO
VSAT
Options:
Integrated +20 dB Transmitter LNA
Extended High Frequency, 4. 0, 6.0 GHz
Extended Low Frequency, 10 kHz
Integrated CWDM
LNB Bias 13V, 13V (22 kHz), 18V, 18V (22 kHz)
Various architectures for reference clock distribution